Creative Bulletin n.100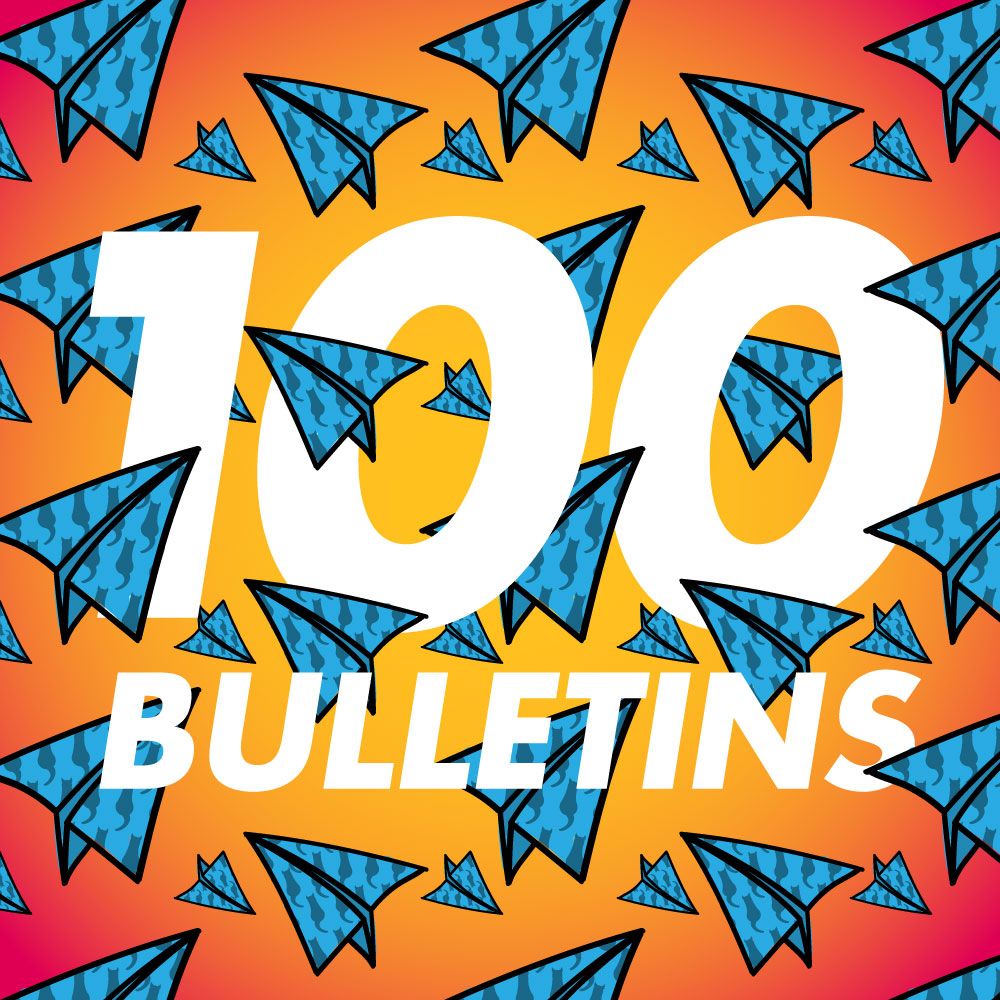 We reached 100 bulletins 🎉🎉🎉 Who would have thought? We don't even like newsletters! Thank you for being with us this whole time, thank you to new friends and mostly to those who have been reading the bulletin for the past two years 🙏
🦊🦊🦊 What we've been up to these years
We developed and pushed into the market 5 products that we are very proud of (and we translated them in Spanish and French ❤️).
We attracted and met like-minded people, who turned into contributors first and then became friends (thank you so much, we are truly honored!)
We discovered that crazy thing called «to delegate» (you should have been there when Matteo forced Andrea to stop boxing everything by hand on his kitchen table 😂).
We went to the Buchmesse, Frankfurt book fair, and we felt like losers and as tiny as grains of sand (it must be some sort of new editor on the block's rite of passage type of thing, that slap in the face that shapes you). And just two years later we got our own "debut in society" at the Book Fair in Turin with a stand that was just…wow 😉
Bottomline, we grew up.
🍓🍓🍓 What we've learned in these years
How to be entrepreneurs. Before Sefirot we had no idea how hard it was. It's been a great learning experience: at the end of the day the majority of opportunities happen because someone had an idea and decided to take a risk. It's one of the aspects that is worth looking into to really understand how our society works (and why sometimes it doesn't work at all!)
How not to trust dogmas. «You can't do that». «What, that? Trust me it's impossible». That's a bunch of bullshit 😂 We are often told that something can't be done just because no one has ever tried doing it, or maybe they didn't do it right!
How to deal with burnout. It happens to those who work for someone else, just imagine when the company is yours 😅 Sleepless nights due to anxiety, long to-do lists, irritability, throwing of chairs, silence, desolation – we've gone through it all and now we try to get back on track as soon as we feel the first symptoms.
How to appreciate ourselves. If we wait for someone else to recognize our worth, we can just give up. Instead, we realized that if you self proclaim that you're a genius long enough (but you have to really believe it!) others will start looking at your work and say: «That's genius!»
How to be ourselves and do what we like. Cause at the end of the day, no one is going to give you a medal. It's always a good idea to stay authentic and to try and do what you really love. That's how the years become incredible and there's no gift better than this.
🌈 Takeaway: your next favorite company might be your own
We all have heroes and someone we look up to who seem totally unreachable. Whether it's Chronicle Books, Apple, Google or IDEO, it doesn't make a difference. But are they really unreachable? If you think about it, their stories go the same: a couple of losers who decided to roll up their sleeves and get to work.
Well, be those losers: you might be the founders of your next favorite company ❤️
With ❤️,
Matteo and Andrea
---
*** Sefirot's Creative Bulletin ***
In this bulletin we tell you how we run an independent publishing company.
🕰 If you want to read past Bulletins, you can find them here https://blog.sefirot.it/tag/creative-bulletin
🚀 If you want to share it with friends, please do!
🐝 If someone shared it with you and you'd like to subscribe, follow this link
🔮 Did you know that we also have a Telegram group where you can connect with other creatives?