Creative Bulletin n.106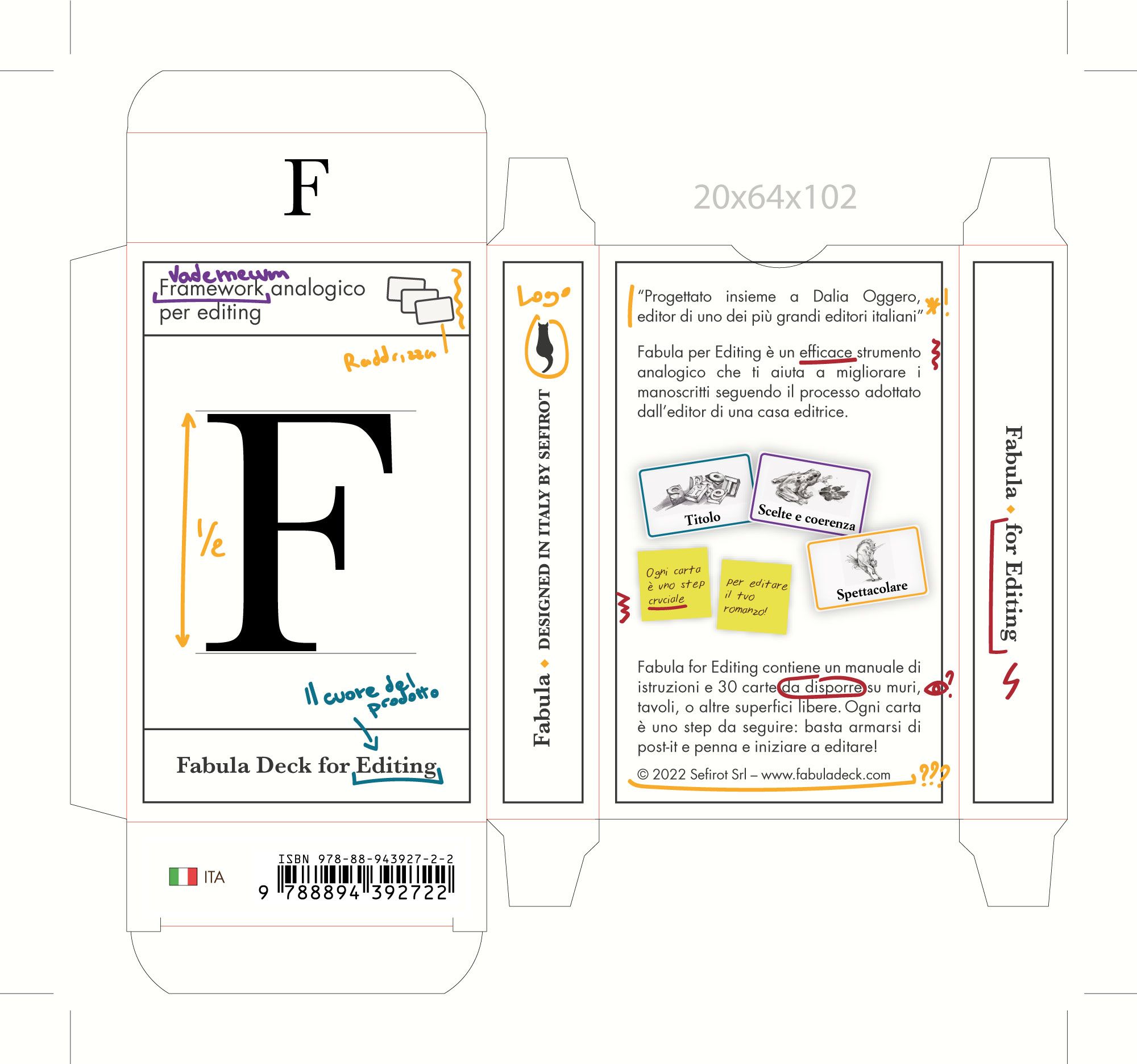 First of all… Happy New Year! 🎉🎉🎉
What you see above could end up being Fabula for Editing packaging (this is a temporary name; we're still thinking about Edito 😂). We welcome comments, advice, and critiques. Holler at us 🙏
🦊🦊🦊 What we are doing
Andrea's holidays went up in smoke due to the pandemic and Matteo has covid (luckily enough he has no symptoms), so we've been at home working on the mountain high pile of backed up things to do:
As you might have gathered, we're dealing with some last minute decisions about the tool for manuscript editing. We can see the finish line so, of course, it got harder!
Matteo is having fun adapting Mario for the screen. He found the Nutshell® technic by Jill Chamberlain quite interesting and he's already thinking about how to develop a tool to help in the adaptation from book to script process 😉
We're putting the finishing touches on BAD's booklet, our Business-Aware Design tool (yep, we bop around from one thing to the other!)
🦊🦊🦊 Things we'd like to do
We learned that Umberto, our legendary Marketing Manager, is writing a vademecum to teach staff how to effectively communicate with Facebook ads… and we'd like to squeeze him and get a new product out of it. We could call it Umberto, or Adberto which we think is even funnier 😂
🐈🐈🐈 What we've learned
In the last few months we stressed a lot about many things, mostly we stressed trying not to get stressed: take breaks, go to the gym, and find that famous balance between "want" and "must". The idea of infinite possible entrepreneurial decisions stressed us out, along with piles of logistical and bureaucratic pain in our asses that are always lurking around the corner, and half-finished projects for which we feel like we have no energy left. It's funny when we think about it but we spent more time on the phone worrying about what to do and looking for a radical solution for that terrible and insurmountable worry, rather than actually doing what we had to do 😂 And our evenings often ended in front of the tv watching useless tv shows to get our minds off all of that worrying.
🌈 Takeaway: let's choose what to stress about
There are different types of stress. Worrying and caring are two very different concepts. It seems that somewhere along the way we've forgotten that we are creatives and that we love that fire that overtakes us and makes us lose track of time, that project that has us working till 2am. That's where we get our energy from, so… why did we get so worried? We have enough fire to light up thousands of nights 🔥
In 2022 we'll try not to forget that 😘
With ❤️,
Matteo and Andrea
---
*** Sefirot's Creative Bulletin ***
In this bulletin we tell you how we run an independent publishing company.
🕰 If you want to read past Bulletins, you can find them here https://blog.sefirot.it/tag/creative-bulletin
🚀 If you want to share it with friends, please do!
🐝 If someone shared it with you and you'd like to subscribe, follow this link
🔮 Did you know that we also have a Telegram group where you can connect with other creatives?