Creative Bulletin n.116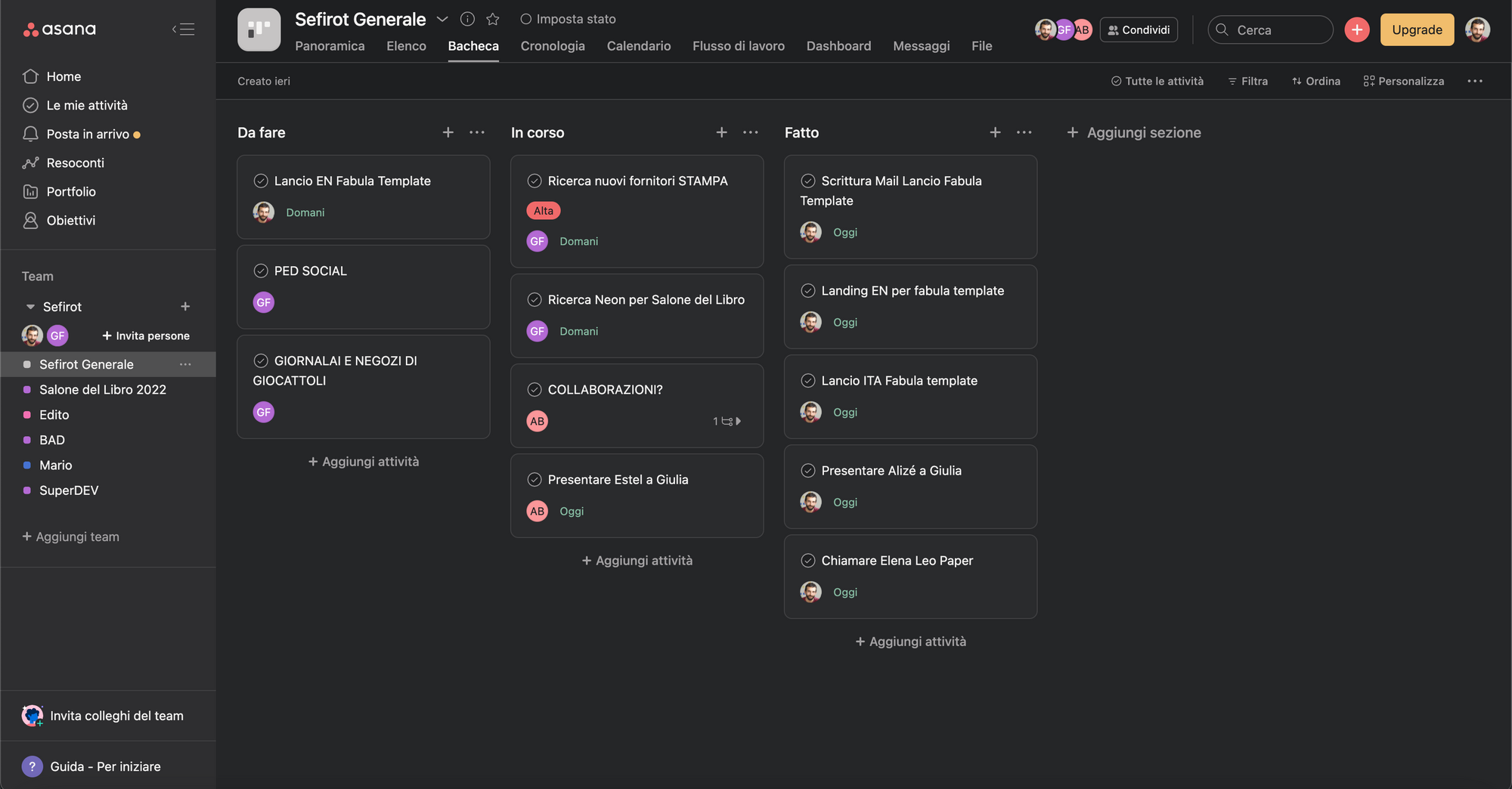 Here's a backstage pic of Sefirot's new organizational structure. We finally found our Personal Assistant (welcome Giulia ❤️) and the first thing we did was to open an Asana account, that's the project management tool that you see in the picture, and that's where we started mapping the company's activities. We're stoked 😉
🦊🦊🦊 What we've been up to this week
Andrea finished Edito's last draft, our tool for editing manuscripts, and in the next few days Matteo will work on the final layout.
We've received the quotes from our producers, both for Edito and for BAD, and we are very happy. We can print BAD's manual in color and with a box that we like a lot 😍
Giulia already found who will make the neon sign for the Turin Book Fair (yep, May is around the corner). It looks like we'll have a gorgeous bright sign that says "creative tools" ❤️🔥 – thanks Camilla for the tip!
Matteo spent Monday with Davide, our number 1 supporter (🙏) who came to Turin to meet us. We read somewhere that publishing houses are born also to connect people through culture, well, this was exactly the case!
🔥🔥🔥 Methodology? Occam's razor
Also known as the principle of parsimony, Occam's razor says that when faced with a problem one should choose the simplest solution among all of the available ones.
Well, for weeks we have been worrying about long manufacturing times for our new products and we went nuts trying to understand how to print a few hundred products fast (to show them at the Book Fair, give them to industry experts etc.) – we even unleashed Giulia in the search for a typography in Italy that could solve the problem.
Until Matteo, yesterday, timidly asked their usual suppliers over the phone if they could print a couple of hundred units along with the prototypes. They answered: «Of course, we get this often» (😱😱😱) Matteo was speechless.
The best solution was the easiest one and it was right there at our fingertips: all we had to do was ask our suppliers!
🐈🐈🐈 What we've learned
This week started better than usual. At 9:30 am we were already on call with Giulia to bring her up to speed with what we are doing, the tasks we were assigning her, what still needs to be done and how we plan on doing them. In the afternoon we already had an action plan set up with deadlines and a specific order; and we felt like after you deep-cleaned your house: energized, positive, happy, and eager to act.
🌈 Takeaway: putting someone in charge of organization forces you to get organized
Giulia hasn't started yet with her most important task (making sure that every member of the team is on point and never late with deadlines) yet, to put her in the position of even doing her job, we had to sit down, review every single aspect of the company and give her all of the deadlines.

Yes, to let her organize us we had to get organized first. And it seemed so easy. Funny, right? 😂
With ❤️,
Matteo and Andrea
---
*** Sefirot's Creative Bulletin ***
In this bulletin we tell you how we run an independent publishing company.
🕰 If you want to read past Bulletins, you can find them here https://blog.sefirot.it/tag/creative-bulletin
🚀 If you want to share it with friends, please do!
🐝 If someone shared it with you and you'd like to subscribe, follow this link
🔮 Did you know that we also have a Telegram group where you can connect with other creatives?