Creative Bulletin n.118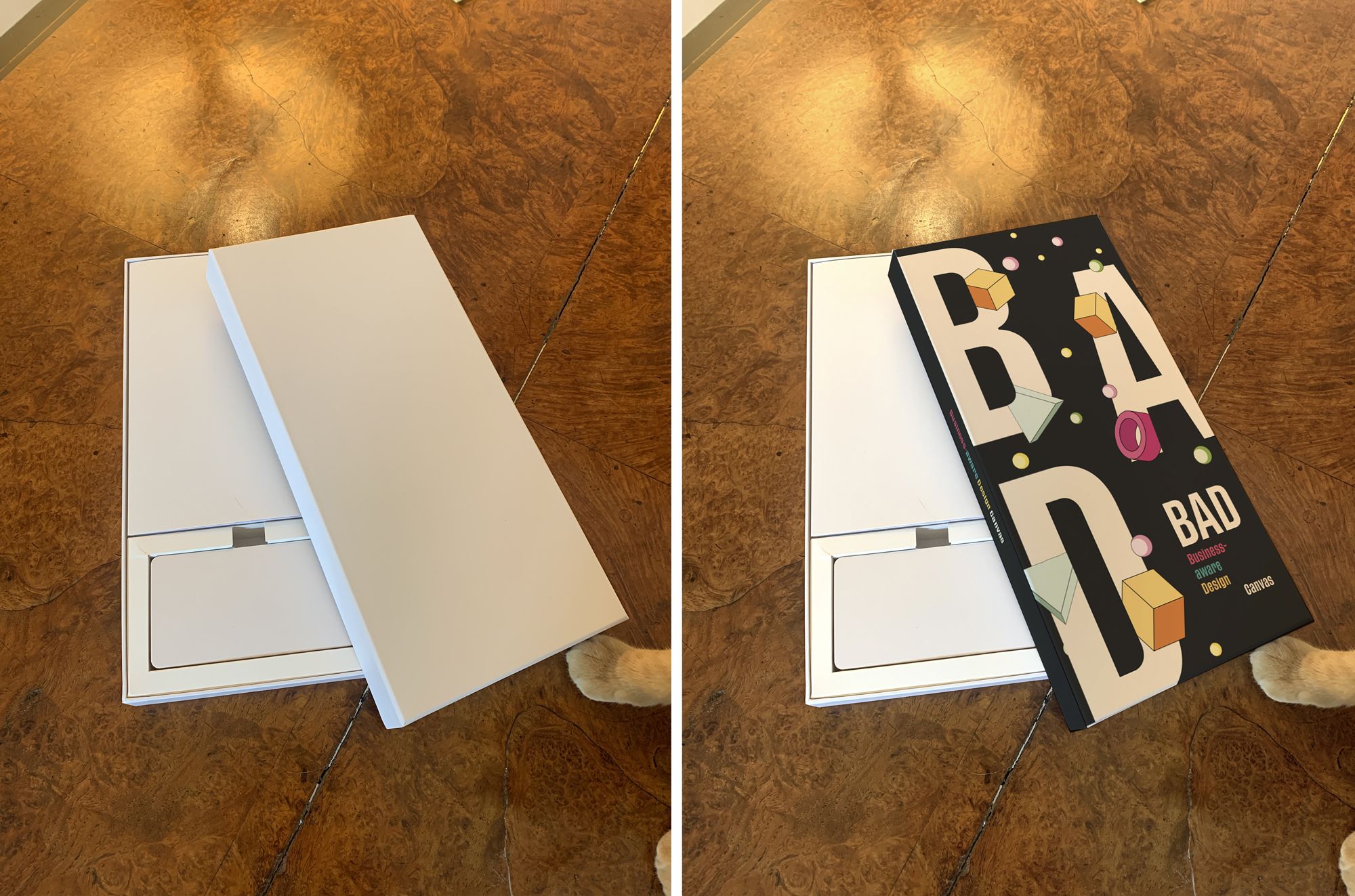 The unprinted prototypes of our upcoming products, Edito and BAD are here, and we have already started studying the covers and running some tests.
If you feel like voting for your favorite we would really appreciate it 🙏
Vote here >> https://forms.gle/yPTcfuQGyLtuEe7W7
🦊🦊🦊 What we've been up to this week
Matteo went to check out the neon store and yes: at the Turin Book Fair you'll recognize our stand by the two meters and a half long orange bright sign that says "creative tools" 😍
Andrea is working on Scaffold's second phase (do you remember the concept we worked on for the European Training Foundation?) – it looks like the card deck aimed at teachers to help them create educational units will see the light of day and… guess who might be in charge of testing and creative direction? 😉
We discovered that Giulia, our new assistant, is amazing at editing and proofreading so we gave her some work: she's looking at Edito and BAD's text.
🚀🚀🚀 Methodology: alternative strategies
The world is constantly changing and in the past few years (mainly because of an increased use of the internet) it is changing faster and faster: what worked yesterday might not work today. In our case, while last year Facebook and Instagram ads were working miracles (all we had to do was show a picture of Fabula to find a writer) now it all became harder, it takes more time, energy and unfortunately more funds.
The problem. Chatting with advertisers who have been in the game for long, we realized that the same thing has been happening since forever. There's a time when a medium is successful and then, all of a sudden that same medium becomes too ineffective or too expensive.
The solution. To accept and to react: either you change the medium or the strategy. In short you must roll up your sleeves and get the brain going because the only way out is to test new paths. For example, we're about to greenlight the so-called "Operation Giulia" (😅): Giulia has been a professional reader for years for one of the most important literary agencies in Italy so we will commission a series of articles, for example on how to write effective synopses or on how to avoid errors that risk a manuscript to end in the rejection pile. Those are articles that we can't wait to read ourselves and we will push these articles to reach our target in a more focused way. We'll let you know how it goes 😉
🐈🐈🐈 What we've learned
Since Matteo almost went in burnout last week, he decided to stop to think for a moment and it didn't turn out an easy thing to do: a stressed person repeating anxiously «You must calm down» will not get too far 😂
In the end he realized that the problem wasn't to be sought in the handling of the to-do lists - and the lists are long -  but the need was to find a thread to pull in order to disentangle the mess.
🌈 Takeaway: look for the synthesis that will open the way.
At one point Matteo told himself: «I'm turning into a to-do list». That image made him laugh and enlightened him. It was so true! He was a to-do list, full of things that need to be done, sure, but…why is he working on them? Why does he work so hard? He called Andrea and asked him: «Why do we do so much? Where are we going? What are we longing for?» And he realized that was exactly what they needed to talk about.
That was our synthesis. What is yours? 😉
With ❤️,
Matteo and Andrea
---
*** Sefirot's Creative Bulletin ***
In this bulletin we tell you how we run an independent publishing company.
🕰 If you want to read past Bulletins, you can find them here https://blog.sefirot.it/tag/creative-bulletin
🚀 If you want to share it with friends, please do!
🐝 If someone shared it with you and you'd like to subscribe, follow this link
🔮 Did you know that we also have a Telegram group where you can connect with other creatives?