Creative Bulletin n.144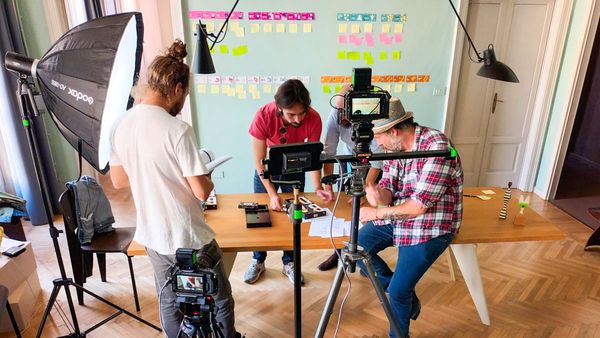 On Monday we went to Milan to shoot the video for the launch of BAD, our new tool for Business Aware Design. It was a lot of fun: we were kindly hosted in a beautiful apartment and helped by a wonderful crew and the Studiolabo team, who are our partners in the project.
We launched the intùiti intensive course. Yep, we finally did it 😉 We built an 18 hours curriculum with classes held on Zoom that will start on October 20th. You can find all of the details here>> https://intuiti.it/corso
Edito is behind the corner. Edito's first batch is traveling right now towards our warehouse. Soon we will ship it to those who have preordered it. In the next few days we'll send an email asking for everyone's correct address 🚀
Out of town weekend. In the upcoming weekend we'll go our separate ways: Andrea will go to Fiume for a presentation of Fabula at the Rikon Festival; Matteo will stay in Turin to hold a workshop with BAD at the Intersection Conference.
🌈 Takeaway: be proud of what you do.
Matteo started listening to The Golden Hummingbird podcast (it is pretty spectacular, he kindly recommends it). Towards the end of the first episode the topic at hand was pride. One of the speakers said that he is often asked: «Why do awards and recognitions (like the Oscars, for example) don't always go to the most competent or most talented people?» And he usually replies: «Because it is the proud people that win, those who believe in what they did and are content about it».
We talked about this all week 😅 If we're not proud of what we did is because deep down we know we could have done better. And if we're not proud of the results, it's going to be difficult to defend it, sell it, take a stance for it.
👉 We would have never gotten to where we are now if we weren't extremely proud of our products. We would have made rash decisions (probably wrong ones); we wouldn't be offended when people made us ridiculous offers; we just wouldn't care enough.
Bottomline, if we're proud, everything changes 🔥
With ❤️,
Matteo and Andrea
---
*** Sefirot's Creative Bulletin ***
In this bulletin we tell you how we run an independent publishing company.
🕰 If you want to read past Bulletins, you can find them here https://blog.sefirot.it/tag/creative-bulletin
🚀 If you want to share it with friends, please do!
🐝 If someone shared it with you and you'd like to subscribe, follow this link
🔮 Did you know that we also have a Telegram group where you can connect with other creatives?