Creative bulletin n.176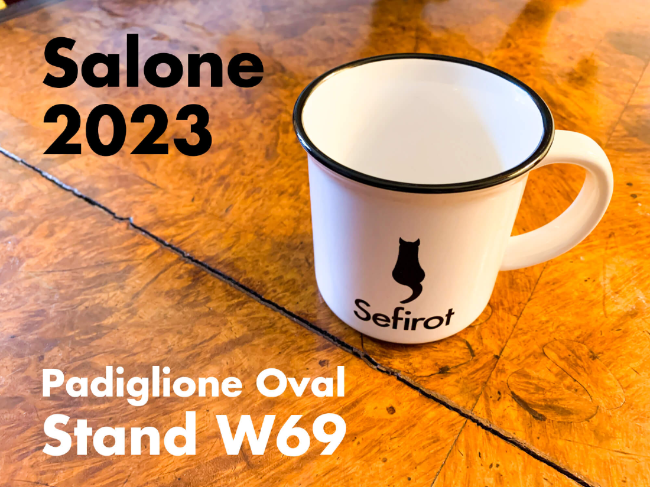 Hear ye, hear ye! We will be at the stand W69 of the Oval pavilion during the Turin Book Fair. Yep, that's a Sefirot mug❤️ Come and get yours! You'll find us here 'till the 22nd.
🧠🧠🧠 About the Fair
The stand. The assembly is going smoothly. We have finished putting together the Sefirot branded foosball table (it looks so good!) and today we will set up the products.
Special experiences. As every Wednesday, I open my house at 9 p.m for the intùiti evenings: we sit around a table, have a glass of wine, and start shuffling cards. And as every Wednesday it was amazing! If you're ever in Turin and you want to participate, drop us a line!
‌‌🔥🔥🔥 New products?
Dreams. For some time I've been thinking about the possibility of designing a product on dreams, to delve into them and use them as a tool for personal growth. I've tried doing that with Chat GPT which, I must say, has given me tremendously good and timely answers. The goal is to beat the machine and do better 😅
Beyond intùiti. After a year of group  intùiti readings, I realized I want more. I would like a tool that can transcend just seeing a problem or a dynamic. I feel the need for something more practical and tangible: breathing exercises, movements, positions, etc. So when intùiti calls for "Opening the Heart," those are not just words, but there's an exercise that goes with it and helps you to open it for real (or at least to start trying 😂).
🌈 Creative takeaway: creativity also means to sit in discomfort
These past few weeks have been extremely uncomfortable for me: Andrea left the company; our business model is shaking; I wonder how much more of my time I need to focus on business aspects; then I get emails begging me not to homologate; I tell myself that they are right, that if I keep on going on like this I will shut down creatively; and the next thing I know is that I'm thinking about salaries to be paid 😂
It's like when you create a logo, or you have to come up with an idea, or write a book. Running a company is not so different. It's happened to me a thousand times and it keeps happening, and every time is hard, no matter how much experience I may have gathered in my life. It's always darkest before dawn, and you just have to learn to be in it and have faith that dawn will eventually come.
I had a phone call with Umberto, our market man (whom I thank ❤️), we both recognized each other in having a similar state of mind and something finally started to click, the right ideas arrived. It always happens in some mysterious way - believe it, when you meet someone in the same state-of-being - if you hold on long enough, dawn will come.
With ❤️,
Matteo
---
*** Sefirot's Creative Bulletin ***
In this bulletin I tell you how we run an independent publishing company.
🕰 If you want to read past Bulletins, you can find them here https://blog.sefirot.it/tag/creative-bulletin
🚀 If you want to share it with friends, please do!
🐝 If someone shared it with you and you'd like to subscribe, follow this link
🔮 Did you know that we also have a Telegram group where you can connect with other creatives?