Creative bulletin n.183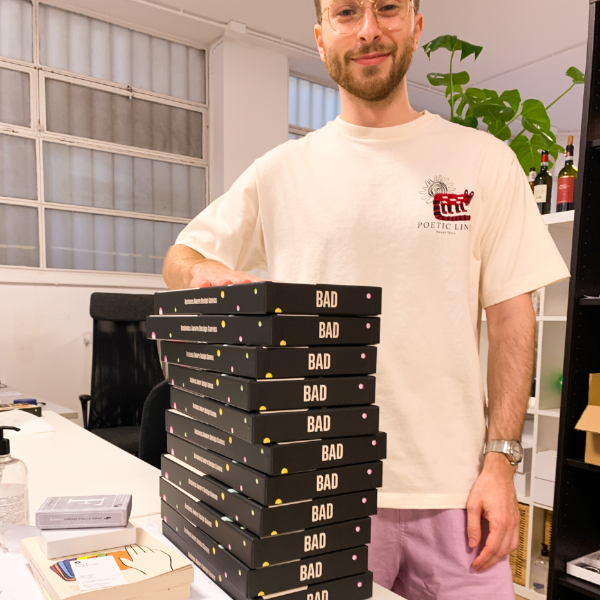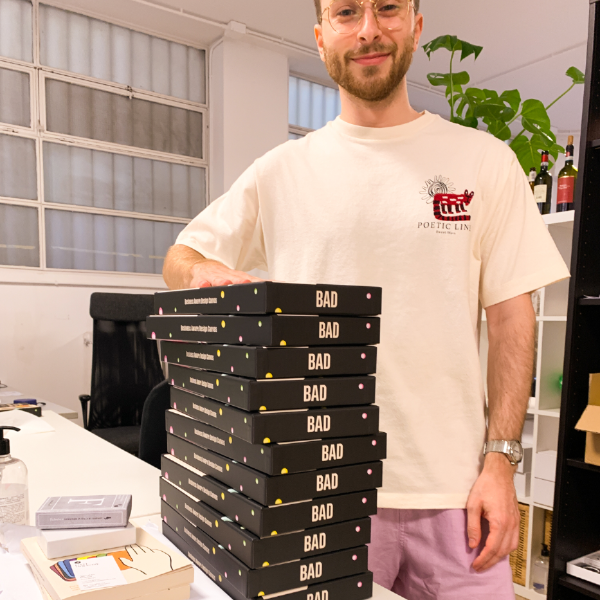 Pictured here you can see the 12 relay copies of BAD in Italian and English. Overlooking the copies there's Simone's satisfied expression because, in addition to being beautiful, unlike our other products, they are also bulky and it makes quite an impression to see them stacked on the table 🤟

BAD PRO. I finished recording BAD's video course. The result is over 18 hours of footage (in Italian and English). I can tell you it was quite an effort, especially since it was 36 degrees celsius outside 😂 It came out dense and effective, just the way we like it. For those who purchased it during the Kickstarter campaign, we will make it available to you next week!
A Branding session. Yesterday, Francesco led us through the task of compiling a framework to build a Brand Manual (a set of guidelines for the brand: how it sounds, how it acts, etc.) It was a lot of fun, mostly because of the indecent amount of crap we said.
Last week some of you asked us to talk about how we brainstorm: well, there's only one way to do it right and that's to prevent team members from saying negative or castrating comments like "No, however," "But...," "That's not good because..." and instead incite them to say as much bullshit as possible. The more you are called upon to synthesize (we were looking for a payoff), the more you have to learn to fly high and find those very thin, almost invisible threads, and the words "no" and "but" won't let you do that.
🌈 Creative takeaway: not being for everyone means being for someone
During the Branding exercise, I was forced to explain to others what Sefirot's values and philosophy are. Not as easy as it seems 😅 At one point I went off on a tangent: «Our products are not for everyone. They are for creative people who are willing to put themselves out there».
When we develop a tool, first we study the subject matter then we take a stand. We put our foot down and say: "We believe this is the best way to approach the problem at hand." If you want to write a novel, structure is essential. If you want to really work on your manuscript, you have to go through a series of long, arduous revisions. If you want to unlock creativity, you have to work on yourself.
That means our tools are not for everyone. They are not for people who couldn't finish their novel but claim, "Well, but I know how to do that!" or for people who don't feel like struggling to revise it, or even for people who don't want to expose themselves but pretend to get unstuck. Our products are for people who resonate with our philosophy.
Taking a stand is beautiful because there is no use being for everyone. What works is to be for that someone, the right ones for us 😘
With ❤️,
Matteo
---
*** Sefirot's Creative Bulletin ***
In this bulletin I tell you how we run an independent publishing company.
🕰 If you want to read past Bulletins, you can find them here https://blog.sefirot.it/tag/creative-bulletin
🚀 If you want to share it with friends, please do!
🐝 If someone shared it with you and you'd like to subscribe, follow this link
🔮 Did you know that we also have a Telegram group where you can connect with other creatives?