Creative bulletin n.194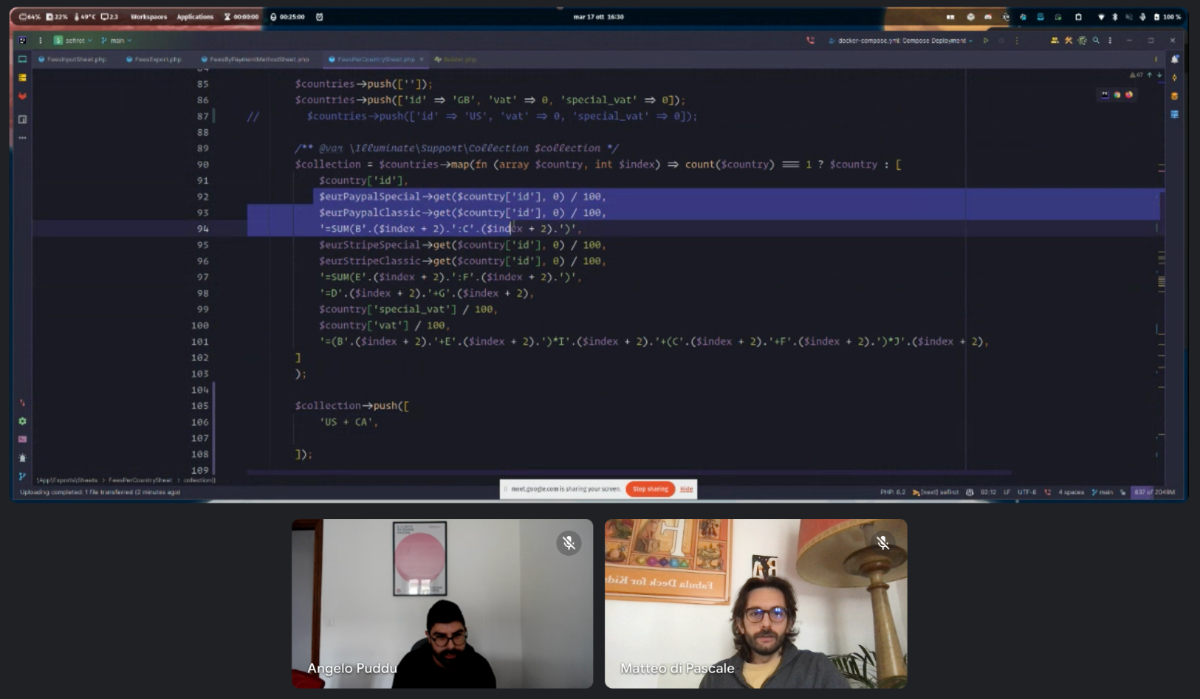 Yesterday we had a call with Angelo, one of our amazing developers. Here you can see us immersed in the code looking for a bug. We are creating an automated system that will save over 20 hours of admin time per month 🤟
Courses and manuals.  We have finally launched Sefirot's first writing course, with Marco Cubeddu, which has already been quite successful (we are very happy about that!). We're still looking for an English teacher so don't forget to send us names or a personal application. And for those who asked: yes, we are also in the process of finalizing the book of film analyses made with Fabula. In the next few weeks our proofreader will send us the drafts, Sara will fix the texts, and then it'll be all yours 😉
The writing of a spooky book. I just started writing Creative Ambush, a handbook on creativity. I'm still looking for the right angle, so from time to time I send snippets of it to former students and collaborators for feedback and advice.
They tell me it scares them and "would make them cry" because I am too harsh 😂 From this I sense that the content of the first part, which is called "Demolishing," works; while the tone needs to become a little more loving 😅
It's not a book about creativity meant in a professional sense (design, advertising, etc.) but about openness to self-expression, and it's helping me to deeply understand my relationship with the ability to create, which for me is broad and it represents a way of life.
Opening of the trunk. We hear a little noise that we don't like. A tick tick tick, or a strange clack clack. It may be a chapter that's not quite as smooth as you would like in the novel you're writing, or something that doesn't add up about paperwork in the office, or the sound of the naming we came up with after hours of brainstorming, or even a subtle tension with a colleague, a friend, or a partner. We know there's something happening under the hood, either a harmless cricket or the engine on fire. What do we do? Are we going to be honest, unmasked, and say, «There's something wrong here», or are we going to pretend nothing is wrong, hoping the car won't stop at the end of the road?
🌈 Creative takeaway: having the courage to follow the hunch
Usually the engine is on fire - the book chapter is bad and there will be others just as bad, the paperwork is disastrous, the naming needs to change, the relationship with your colleague, friend or partner is in serious jeopardy - and it's best to realize this as soon as possible.
This is courage: let's take off our masks, dare to speak our mind, slip into what seem like small cracks to discover that they are gaping holes. Let's dismantle everything that doesn't work, tear it apart and say goodbye or put it back together again.
There is no better way to be creative 😝
With ❤️,
Matteo
---
*** Sefirot's Creative Bulletin ***
In this bulletin I tell you how we run an independent publishing company.
🕰 If you want to read past Bulletins, you can find them here https://blog.sefirot.it/tag/creative-bulletin
🚀 If you want to share it with friends, please do!
🐝 If someone shared it with you and you'd like to subscribe, follow this link
🔮 Did you know that we also have a Telegram group where you can connect with other creatives?