Creative Bulletin n.66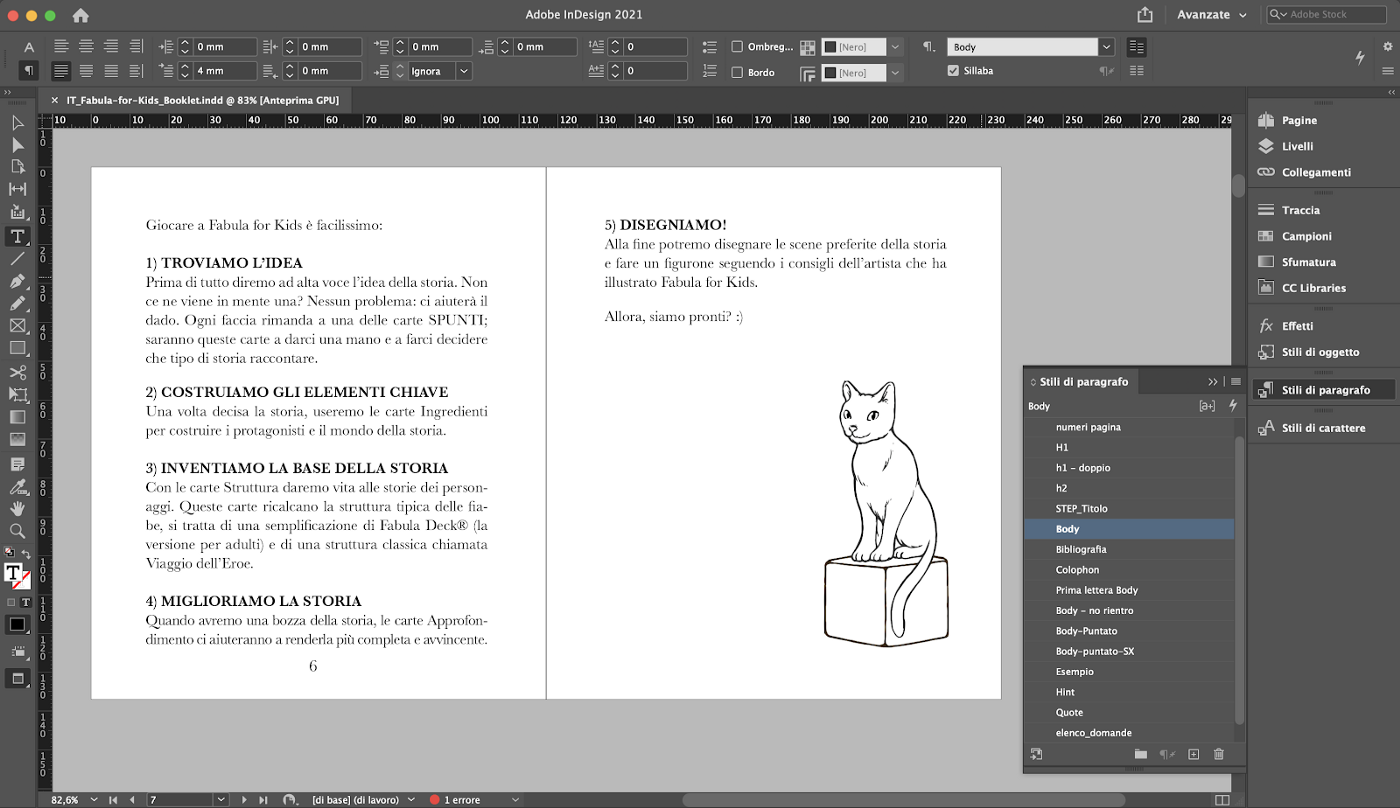 There are about 24 hours left before Fabula for Kids' Kickstarter Campaign will reach its end, and it's time to work on the files for printing 😊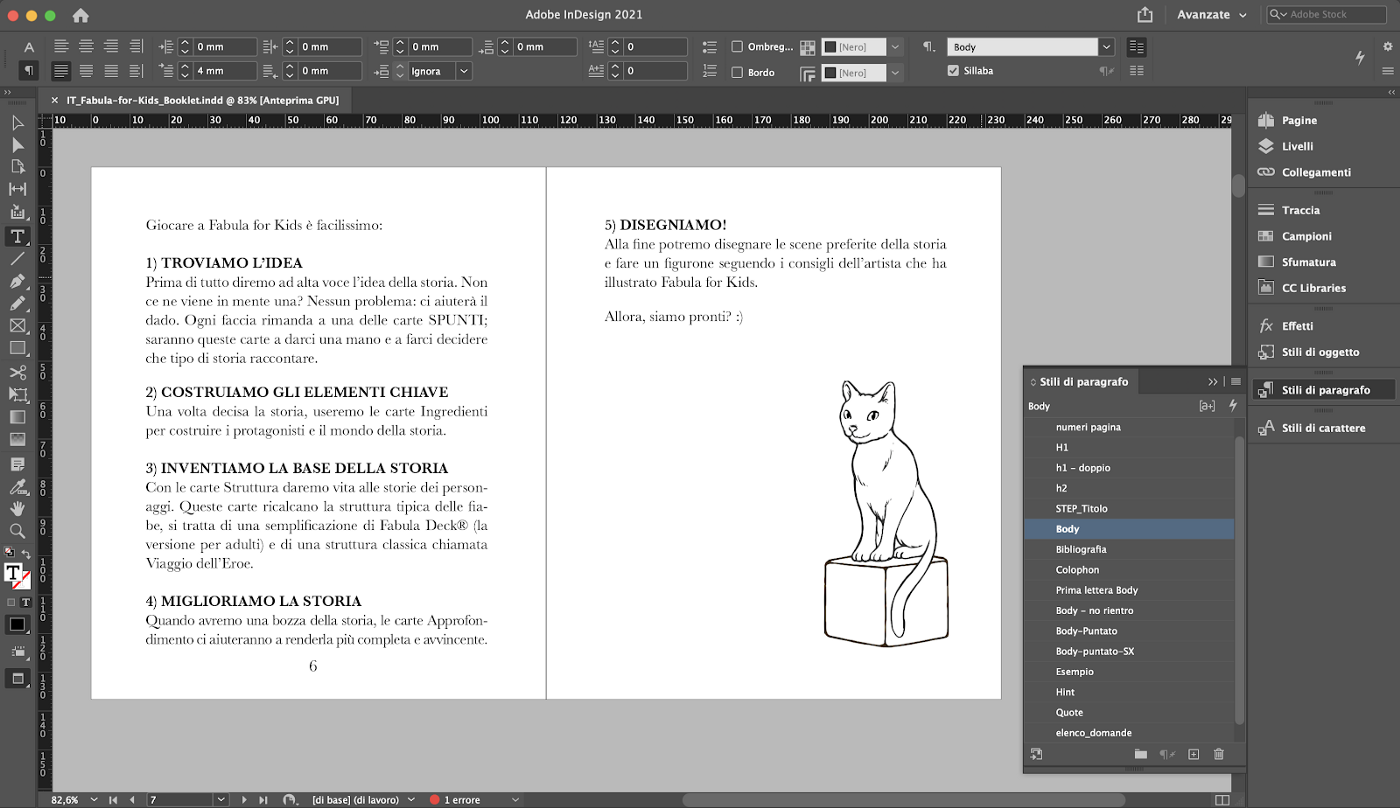 The project will be on Kickstarter for a few hours. If you haven't checked it out yet, 👉https://www.kickstarter.com/projects/sefirot/fabula-deck-for-kids
🐐🐐🐐 What we've been up to this week
As we showed in the image above, we started the layout on the Fabula for Kids' booklets (and we have to finish in the next 24 hours since we promised to have the download ready right at the end of the campaign 😅)
We have a new head of distribution who will help us with placing Sefirot's products in every independent bookstore in Italy! Welcome Estel 🙏
We had to fix a bunch of technical issues (actually it was our developers Angelo e Luca who fixed them!) and it was all done to contain the shitstorm that ios14 threw on Facebook 💩
We're almost ready to go online with the websites in French and Spanish and we found the person who will handle the customer care, so it is official: today we launch in Spain 🚀
🦊🦊🦊 What we would like to do
Sefirot's blog. We call it blog but we would like for it to be something more: a container that holds tools for writing, creativity, on how to launch creative products, on the difficulty of running a business. Bottom line we want a creative bulletin but bigger, a true supportive magazine for creatives 😊 — It might be called Sefirot's Thinking (a creative perspective), but let's not get ahead of each other: we're still brainstorming!
🎃🎃🎃 What we've learned
This past week we felt like the earth was shaking under our feet. To tell it plain and simple, Facebook broke down 😭 As we mentioned above, ios14 turned out to be a disaster for online ads (which is our main selling channel) and uncovered how volatile it is. It was our own '29 crisis and it forced us to look at the reality of the situation: the business model we've been using is not safe.
🌈 Takeaway: we shouldn't survive, we should thrive
Our first reaction was to look at the easiest and most known solution (we did more than look, we kind of latch onto it) which is the diversifying of our sales channels: physical distribution; a click-bait blog to gain "organic traffic"; and studying a killer funnel system.

Then we realised that it made no sense. The problem is not Facebook, we are the problem — we've been relying on a model that worked so we got lazy — actually, Facebook is to be praised since it gave us a much needed push.

It took about 10 hours worth of phone calls during the weekend for us to reach a verdict: we don't care about click-bait blogs and funnels that will increase sales. We realised that we really want THE Blog on creativity (one that we would read ourselves) and a mailing system that will show and include our customers in Sefirot's World.

From that realization on, it has been downhill: we lit up, we got our excitement back and ideas (the good ones) started to flow.

How about you? When was the last time that you decided to thrive and not just to survive? ☀️
With ❤️
Matteo and Andrea
*** Sefirot's Creative Bulletin ***
In this bulletin we tell you how we run an independent publishing company.
🕰 If you want to read past Bulletins, you can find them here https://blog.sefirot.it/tag/creative-bulletin
🚀 If you want to share it with friends, please do!
🐝 If someone shared it with you and you'd like to subscribe, follow this link
🔮 Did you know that we also have a Telegram group where you can connect with other creatives?