Creative Bulletin n.67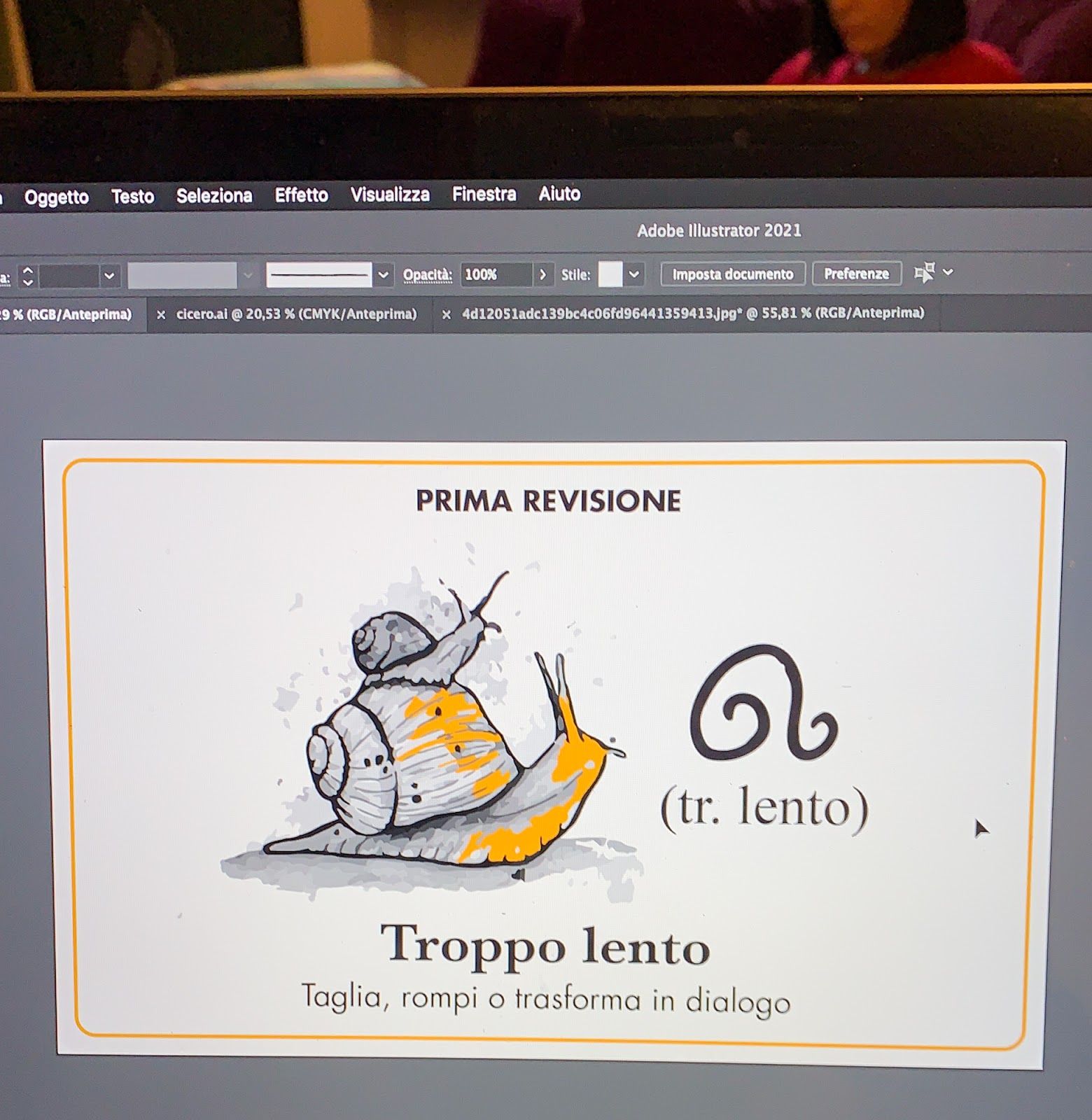 The Kickstarter campaign is over  🎉, we started sleeping again 😂 and, as you can see from the image below, we started working on the new products 😉
Translation: «Too slow» / «Try to cut, break or turn into dialogue»
Yes, this is clearly Fabula for Editing 😍 What do you think?
🐐🐐🐐 What we've been up to this week
Andrea edited Fabula for Kids' booklet (the classes we took ended up being a great choice 😊) and Matteo finalized the layout. This week we'll send everything into production!
We landed in Spain 🐃🇪🇸Olé! The platforms work perfectly: some of our decks are already flying towards Madrid, Saragoza, Tenerife (so jealous 😂)
We cursed quite a bit for the blog. Matteo is looking for a system that he would end up loving but it's turning out to be harder than expected (who would've thought? 😂)
🦊🦊🦊 What we would like to do
Classes and talks on creativity. Both philosophical and practical. How do we know if a concept is marketable (and if it's good for us!)? How do you launch a new product? How do you promote a new product? What should you do when following the rules brings you to failure: give up or turn into a pirate (😂)? Something along those lines. What do you think?
🎃🎃🎃 What we've learned
When we opened Sefirot, we said: «We're a publishing house and we make tools for creativity». We found a business model, we actualized it and we started selling our products and creating new ones. But there was always something pushing to come out. It manifested in the Bulletin (and no one could have imagined this kind of newsletter 😂) and it also came out in the way we handle difficulties and how we try to innovate systems that are around us.
🌈 Takeaway: there's a path for us
A few days ago Matteo told Andrea his vision and Andrea said:   «Ok, I see it too». It wasn't tangible (we were on the phone): it was, well, a vision.
All of the elements have been right in front of our eyes for years – educational tools, strong positions, the desire to change paradigms, teaching experience – but it was only yesterday that we saw the path clearly.
Sefirot is not its products, nor its business model. Sefirot is its creative approach, it's to send a meeting belly-up because of a hunch and to use UX to sell in physical stores. Sefirot is to understand a system fully before criticizing it and having the courage to change it if we don't like it. Bottom line, our destiny is to teach how to be creative, there's no way out of it 😂
And you? Have you already found the leitmotiv of what you do and the vision of what it will be one day, the path that is right there for you?
With ❤️
Matteo and Andrea
*** Sefirot's Creative Bulletin ***
In this bulletin we tell you how we run an independent publishing company.
🕰 If you want to read past Bulletins, you can find them here https://blog.sefirot.it/tag/creative-bulletin
🚀 If you want to share it with friends, please do!
🐝 If someone shared it with you and you'd like to subscribe, follow this link
🔮 Did you know that we also have a Telegram group where you can connect with other creatives?