Creative Bulletin n.80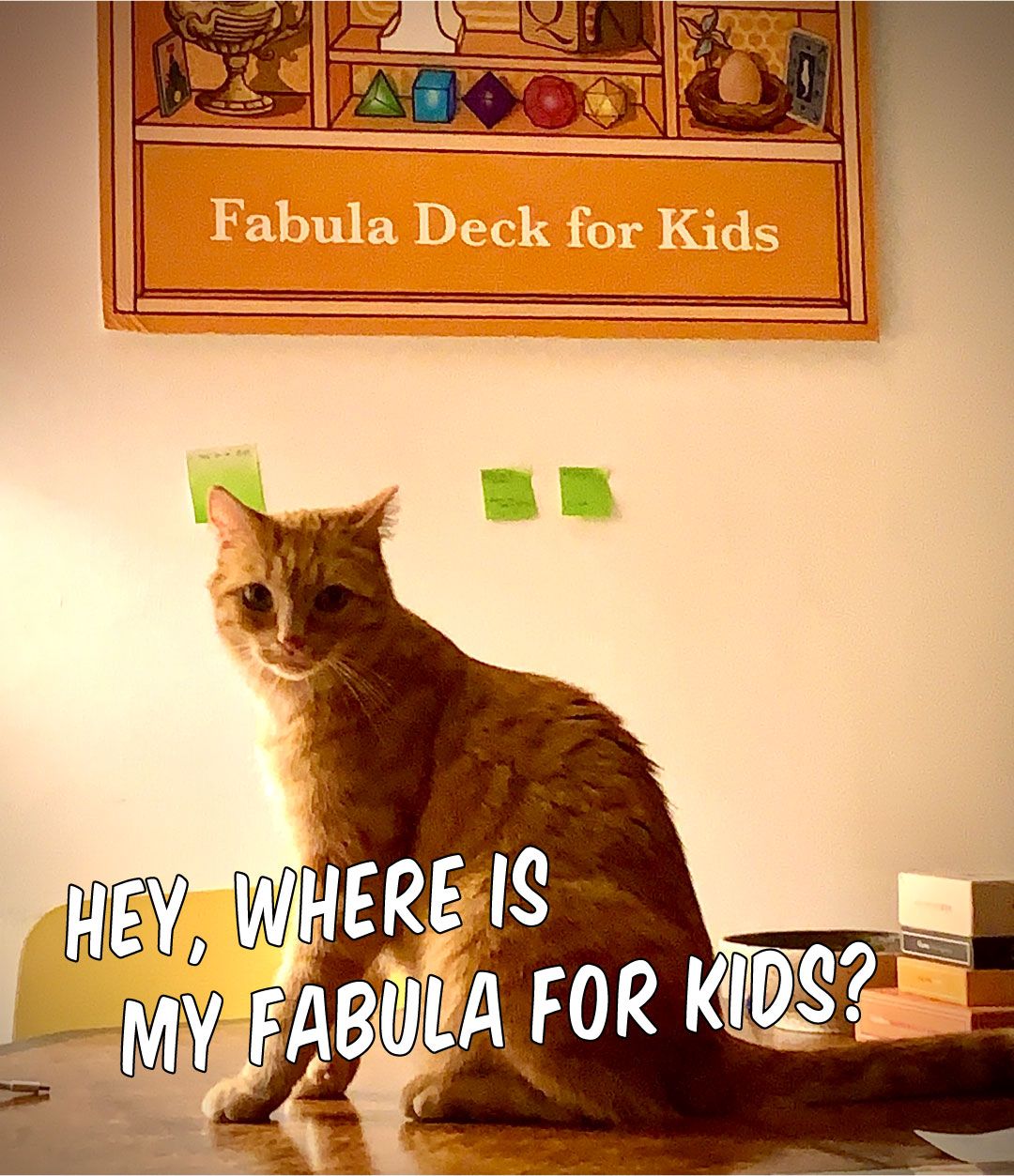 Fabula for Kids' decks are on their way to our warehouse in Rimini and the expected arrival date is mid-July. Within the end of July you should receive yours! 😉
🐐🐐🐐 What we've been up to this week
Very little, the heat killed us 😂 We don't know what it was like in other parts of the world but in Piedmont, Italy it was unbearable. We basically walked up and down the house and the office with the same charm of mustachioed gentlemen during siesta time in western movies. Bottomline, we have done the bare minimum:
More interviews for B.A.D., our tool for Business-Aware Design (among other things, we have finally formalized the collaboration and we can tell you that we are working on it with Studiolabo, the company that created the Fuorisalone in Milan ❤️)
To make Matteo happy, since he loves them so much (🤮) we have set up the new email funnels aimed at those who have just purchased our products so we can tell them how to better use them.
We made a call with the Turin International Book Fair to plan Sefirot's presence (and hopefully some workshops!)
🦊🦊🦊 Methodology: implementation of a strategy
According to Richard Rumelt, UCLA professor and author of the book Good Strategy, Bad Strategy, a bad strategy can be identified by these warning signs: fluff (high-sounding but empty words); failure to identify the challenge; mistaking goals for strategy (focusing on profit or performance goals instead of methods to overcome challenges); bad strategic objectives. On the other side a good strategy has three essential parts: a diagnosis that defines and explains the nature of the challenge; a guiding policy to manage the challenge; and coherent actions that go with the chosen line to achieve the goal. In short: what's going on, where are we trying to go and how should we do it?
Example. We used this approach with a problem that arose with book distribution. Estel, our sales representative, has contacted the bookstores that have our products and some of them have not been able to sell anything. She dug a little and found out that customers couldn't quite understand what our products were and how they worked. So:
Diagnosis. The packaging is not effective in conveying the value and usage of the product, so the challenge is to be able to convey it to potential customers.
Guiding policy. Even if we made bigger packs, the available space would still not be enough, so we decided to focus on the booksellers and work on their training (a person can potentially be more effective than a written text).
Coherent actions. We recorded two-minute videos in which we explained our products and their strengths and asked Estel to send them to booksellers. From that moment on we will check on improvements.
🐈🐈🐈 What we learned this week
In the interviews we conducted, we used a maieutic method to explain how much of a benefit would be knowing their business needs. Their eyes lit up when they understood it: potentially it meant more customers, a promotion, or more revenue. Wow, right?
But no one told us: "Okay, but fuck this... I absolutely love to do it this other way!"
🌈 Creative takeaway: let's take care of our soul.
If everything is logic, strategy, effectiveness, life becomes boring. It's okay to make informed choices, not to invest time and money naively so then you end up closing shop; however there is the need to include something else; something we want to do even if it leads us nowhere and that makes no sense at a strategic or marketing level. We need something that makes us proud, cheerful, carefree, that makes us laugh even if no one else laughs.
And you? What are you doing that doesn't make any sense, except to yourself? 🤟
With ❤️,
Matteo and Andrea from Sefirot
---
*** Sefirot's Creative Bulletin ***
In this bulletin we tell you how we run an independent publishing company.
🕰 If you want to read past Bulletins, you can find them here https://blog.sefirot.it/tag/creative-bulletin
🚀 If you want to share it with friends, please do!
🐝 If someone shared it with you and you'd like to subscribe, follow this link
🔮 Did you know that we also have a Telegram group where you can connect with other creatives?