Creative Bulletin n.90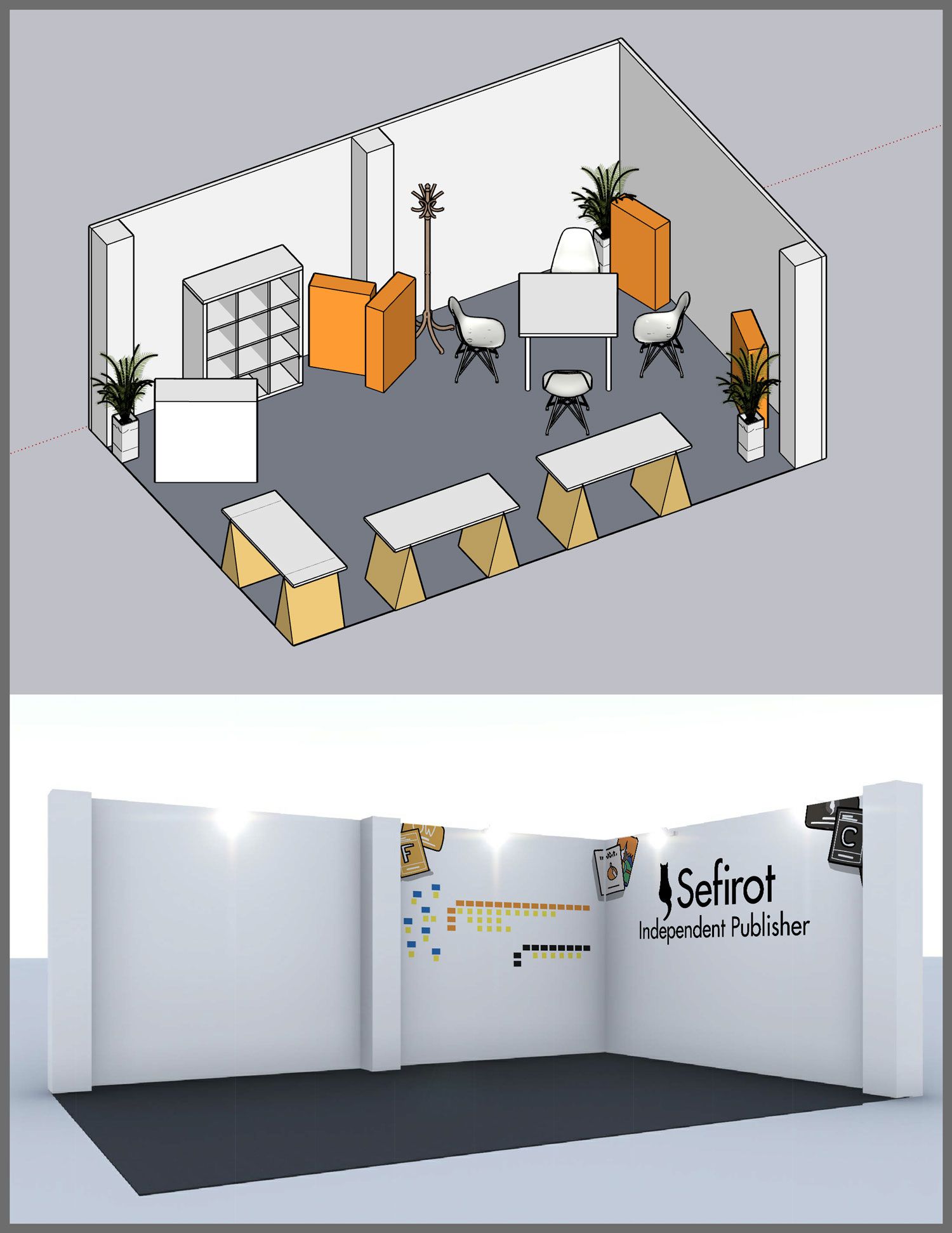 Matteo is losing his mind trying to design the Sefirot stand for the Book Fair. It's the first time he works on a stand, so he opened Sketchup to understand how to arrange tables and bookcases, and now he has nightmares about it 😂 – among other things we are wondering which gadgets to make (and if we even should make them!): Pins, t-shirt, tote bags etc.
What would you like? Let us know!
🐐🐐🐐 What we've been up to this week
We have uploaded the Fabula Advanced course videos (all 25gb of 'em) and in a few days they will be available on our platform 🎉
We have solved the last usability problem concerning BAD, our tool for Business-Aware Design, and now even our grandmas could use it 😉 on top of that we have analyzed 6 very complex and very different scenarios and… it works!
Andrea can finally see the finish line with the editorial rules of Sefirot: we will use them to layout Mario!
We sent the latest version of the booklet to Dalia, the editor who' supervising Fabula for Editing: beta tester, get ready 😉
🐈🐈🐈 What we would like to do
Show our eccentricity more. We've already started: we are learning to let go during calls with partners and suppliers, and to speak freely, as we would do among ourselves; we say the things we think in real time and without making big assumptions; Andrea rolls his eyes and Matteo lets the other people in call know that Andrea has just rolled his eyes 😅 But not too many people know that, once those calls are over, we pick some Intùiti cards and, depending on how they make us feel, we choose whether to end a project or to carry through with it. This is not a joke: we really do it! That's how we decided to create BAD (which is making us really proud) or even when we asked to be in the Oval Pavilion during the Book Fair (the pavilion that nobody usually wants). So far this system has worked perfectly 😉
🦊🦊🦊 What we've learned
The first version of the Sefirot stand for the Book Fair had a lounge area – a loveseat, two acapulco chairs, a coffee table – which ended up taking half the space. Matteo was trying to design something "cool" and got carried away. He came back to his senses when he realized the shame he would feel sitting on the sofa observing those who entered the booth looking like the owner of a strip club (😂). It took him two days to call Andrea and ask "What are our goals with the stand?" In the end, he designed an office area where Fabula can also be showcased live.
🍕 Creative takeaway: beware of being too conscious.
The question about goals and objectives should have been asked from the get go, and Matteo knew it (it is one of the first cards of BAD!), but he forgot about it. It's not the first time: it happens often that we let the guard down when dealing with a topic we feel confident about. Let's be careful because this is how we end up feeling a bit stupid sitting on sofas that we didn't need 😂 🛋
With ❤️,
Matteo and Andrea
---
*** Sefirot's Creative Bulletin ***
In this bulletin we tell you how we run an independent publishing company.
🕰 If you want to read past Bulletins, you can find them here https://blog.sefirot.it/tag/creative-bulletin
🚀 If you want to share it with friends, please do!
🐝 If someone shared it with you and you'd like to subscribe, follow this link
🔮 Did you know that we also have a Telegram group where you can connect with other creatives?