Creative Bulletin n.97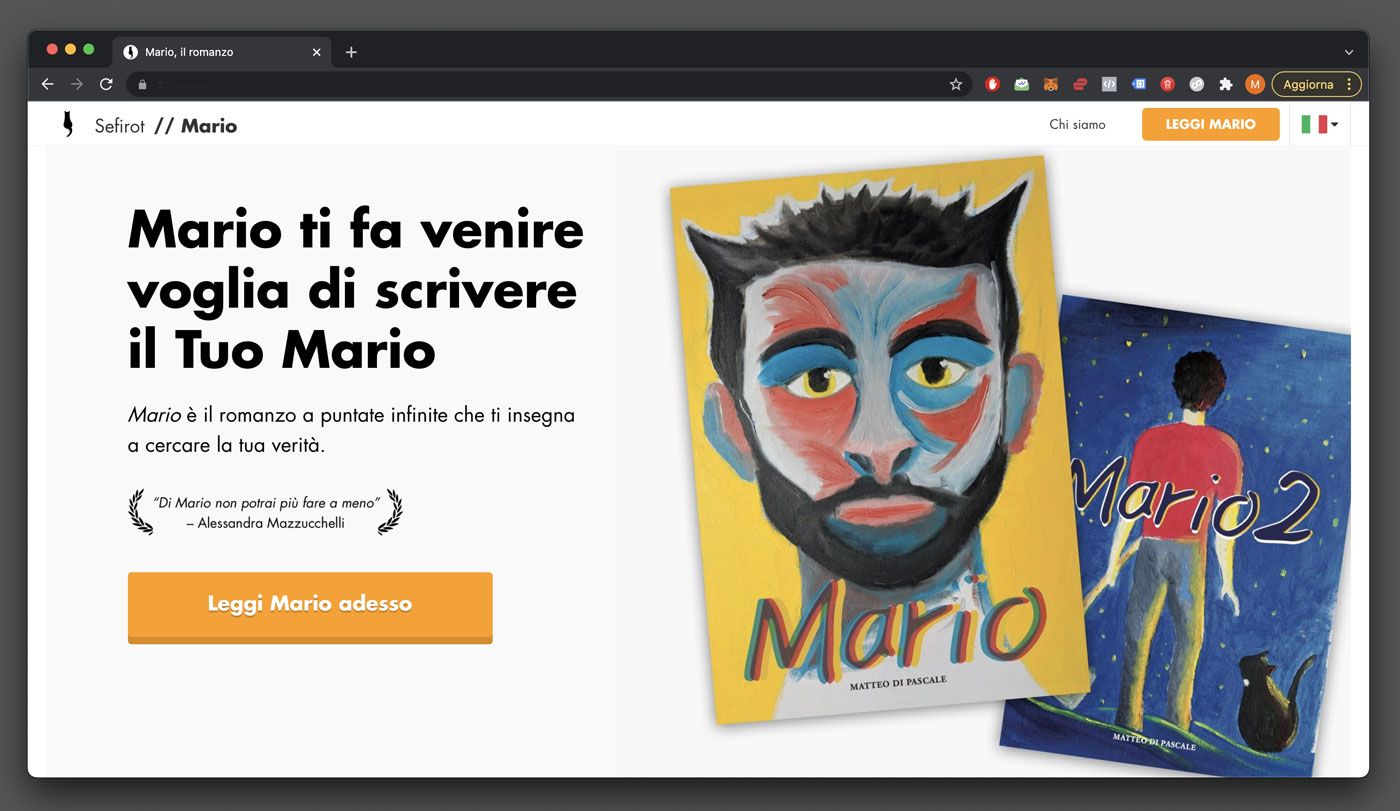 We're working on Mario's official launch, as you can see from the landing page that Matteo is building. In the next few days we'll share all of the details 🚀
🦊🦊🦊 What we've been up to this week
We're in burnout after the Fair. We closed the Book Fair thinking «It went well after all» and then the comeback was harder than what we expected (waaaaaay more difficult: this weekend we still had nightmares set in fair pavilions 😂).
We're on the finish line with our platform for the managing of distribution in Italy. We should be able to put it online by the end of the month and it'll be a real game changer (let's hear it for Angelo e Luca, our developers who have outdid themselves once more 🎉).
Alizé finished translating Mario in English and in the upcoming weeks she'll start working on Mario2. The idea of bringing a novel abroad is extremely exciting!
We're working Fabula for Editing's graphics (Daria is taking care of it and, as you can see from Instagram she'll gift us with some amazing images), and also on BAD Canvas (which will be handled by Studiolabo and in our last call some of the key concepts that came up were «russian constructivism» and «provocative» = wow 😍).
🐈🐈🐈 What we'd like to do
A movie based on Mario. Besides the gut feeling «how cool would something like that be?!», what would actually happen if we managed to make an indie film based on Mario and sell it to Netflix? Or better to "sell it for cheap" to Netflix, in an effort to gain some leads for the book 😉 Maybe... We're always looking for new strategies!
🚀🚀🚀 Talking about strategies: acquisition costs and lifetime value
Premise. In every business where there is a sale (client buys a product or a service) one should take in account the costs of acquiring a client (ads, distribution, rent of a stand, store rent etc.) and how much that same client will spend on average.
Problem. If we don't invest to get to people, they will not know that we exist. Up until some years ago the only ways to communicate were extremely expensive traditional channels (tv, radio, print etc.), then platforms like Facebook started to allow brands to pay for ads in a more precise and targeted way. They have, de facto, democratized publicity: the majority of small brands can't afford to buy ads on TV or in the newspaper. Now, the new-found worry over privacy from colossus like Apple, regardless of our personal opinion about it, translates into a disaster for small businesses: making it hard to target possible clients (it is basically like shooting in the dark) and leaving room to big players that have always been able to spend big bucks on communication.
Solution. If this is a problem you're having, don't lose faith. If the cost of acquisition increases, one option is to try and raise the lifetime value of clients. For example, we are working on classes that can be integrated with the tools (they're turning out pretty good). Bottom line, by working creatively you can make virtue of necessity 😉
🍓🍓🍓 What we are learning
We feel a sort of anxiety and we think that it's not just us; it looks like a general fibrillation. It might be linked to the world starting to go again at a regular pace, the feeling that all of a sudden the station is full of people and at every track trains are whistling, and we get this nervous feeling like «we need to do, do, do or the speed of the world will sweep us away!»
🌈 Takeaway: let the trains go
Important works are not born from agitation (as our high school philosophy teacher used to say: «Haste makes waste»). Intùiti wasn't designed in one night on a whim, neither did Fabula, nor anything else we want to really make. The reality in which we live is super fast, it changes in a jiffy and it's hard to catch it, and now that everything is picking back up the feeling is that of vertigo going all over the place and we're tempted to jump on one of the trains cause it is finally moving, it is moving!
Instead we should stop, let the trains go, all of them if it's necessary, and wait for the one we want board 🚃
With ❤️,
Matteo and Andrea
---
*** Sefirot's Creative Bulletin ***
In this bulletin we tell you how we run an independent publishing company.
🕰 If you want to read past Bulletins, you can find them here https://blog.sefirot.it/tag/creative-bulletin
🚀 If you want to share it with friends, please do!
🐝 If someone shared it with you and you'd like to subscribe, follow this link
🔮 Did you know that we also have a Telegram group where you can connect with other creatives?